I'd love to know how accessible you find the explanations of psychology and the writing on PsyBlog. To find out there is a simple poll below. Your opinion will help me to make any necessary adjustments.
Here are some of the aspects you might consider:
Are concepts skipped over too quickly or, alternatively, described in too much detail for you?
Do you generally understand the point of the experiments and concepts described or, alternatively, is it often not clear for you?
Is the language too complicated or, alternatively, could it be more complex for you?
The poll is below: please choose one option.
If you are reading this in an email or your RSS reader or elsewhere, I'd appreciate it if you could visit the site by clicking here to register your vote. I will leave the poll open for 1 week.
Thank you for voting – I appreciate your time.
[Image credit: Lumaxart]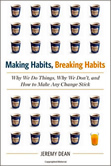 About the author
Dr Jeremy Dean is a psychologist and the author of PsyBlog. His latest book is "Making Habits, Breaking Habits: How to Make Changes That Stick". You can follow PsyBlog by email, by RSS feed, on Twitter and Google+.
Published: 8 February 2008