Satirical website The Onion reports that:
A television commercial for Nabisco's Fig Newton bars that debuted Friday preys on a wide range of innate human weaknesses, from greed and gluttony to the compulsive need for self-gratification in an otherwise cold and uncaring world, industry sources reported Monday.

"Flattery, pride, self-aggrandizement, fear of rejection: This latest Fig Newtons ad campaign fires on all cylinders," advertising executive and CNBC talk-show host Donny Deutsch said. "It has nothing but contempt for its target audience, its exploitative nature borders on the unethical, and it's one of the most brilliant marketing strategies in years."

[...]

Although the true effectiveness of the commercial has yet to be seen, early figures from Nabisco indicate a nearly 4 percent sales increase among many prized demographics, including unmarried women ages 18 to 37 who desperately wish to have a family, single men between the ages 25 and 40 who suffer from unresolved abandonment issues, and girls in the 7-10 age bracket who already possess debilitating body image concerns.
Entertaining but strangely I couldn't laugh because everything was too true.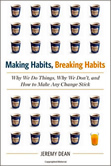 Making Habits, Breaking Habits
In his new book, Jeremy Dean--psychologist and author of PsyBlog--looks at how habits work, why they are so hard to change, and how to break bad old cycles and develop new healthy, creative, happy habits.
→ "Making Habits, Breaking Habits", is available now on Amazon.
Reviews
The Bookseller, "Editor's Pick," 10/12/12
"Sensible and very readable…By far the most useful of this month's New You offerings."
Kirkus Reviews, 1/1/13
"Making changes does take longer than we may expect—no 30-day, 30-pounds-lighter quick fix—but by following the guidelines laid out by Dean, readers have a decent chance at establishing fulfilling, new patterns."
Publishers Weekly, 12/10/12
"An accessible and informative guide for readers to take control of their lives."
→ You can dip into the first chapter, or check it out on Amazon.com.
Join PsyBlog's 69,466 readers now:
Share/save this article:
Published: 17 November 2007