Fun BBC mockumentary on the brain. Contains two ground-breaking experiments, the first involving inserting a pin into Nigel's 'broab' – the brain area that controls sneezing. The second has a brain in a jar counting nuts in another jar. Communication with the brain is via a bright red 1970s style telephone.
It's a bit too long but good fun for those who remember these sorts of dodgy educational films. For those too young, think of those educational films in The Simpsons that used to start: "Hi I'm Troy Mclure, you may remember me from such classic slasher movies as "Honey, I Shrunk My Brain," and "Nightmare on Cerebellum Street."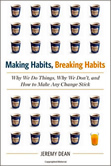 About the author
Dr Jeremy Dean is a psychologist and the author of PsyBlog and HealthiestBlog.com. His latest book is "Making Habits, Breaking Habits: How to Make Changes That Stick". You can follow PsyBlog by email, by RSS feed, on Twitter and Google+.
Published: 20 October 2007