"Racial tension, sexual harassment, masturbation with a bottle – this year's Big Brother has plunged to new depths in reality television. From self-loathing gay hairdresser Craig groping drunken geordie Anthony, to wannabe footballer's wife Saskia telling Zimbabwean nurse Makosi her Afro hairdo looked like "a fucking wig". All of which prompts the question: just what are the programme's psychologists doing?"
They're making a bit of money and getting their mugs on TV, that's what they're doing.
And with so many programmes on TV that involve psychologists there is more opportunity than ever before for professionals to engage with a huge audience. This article in The Guardian questions whether psychologists should be involved at all.

The Guardian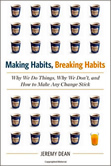 About the author
Dr Jeremy Dean is a psychologist and the author of PsyBlog. His latest book is "Making Habits, Breaking Habits: How to Make Changes That Stick". You can follow PsyBlog by email, by RSS feed, on Twitter and Google+.
Published: 13 August 2005