There was a contradictory and confusing article in The Guardian yesterday about the psychological after-effects on the survivors of the London bombings. We are encouraged to provide support but Dr Reddy tells us that counselling is probably not necessary as:

"...less than 5% of survivors and witnesses of the tube and bus bombings were likely to develop post-traumatic stress disorder (PTSD)."
While on the other hand Dr Thompson says,

"...one would predict that 40% will find their reactions haven't returned to normal in the next few weeks."
In which case:

"They will probably feel anxious, depressed, suffer nightmares or flashbacks and generally be much more fearful - making it very difficult to carry on with the normal things in life."
And the article finishes with the information that:

"Dr Stephen Joseph, reader in health psychology at the University of Warwick, sounded a positive note for the longer-term. The psychologist said between 30 and 70% of survivors of traumatic events reported positive after-effects."
Well that's all alright then isn't it? I may have just witnessed a horrific bomb blast but at least there's a fair chance that my life will improve over the long-term.

The Guardian

More on London bombings: Profile of a Terrorist, Why We Are Glued To The TV and The Psychology of Terrorism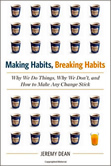 Making Habits, Breaking Habits
In his new book, Jeremy Dean--psychologist and author of PsyBlog--looks at how habits work, why they are so hard to change, and how to break bad old cycles and develop new healthy, creative, happy habits.
→ "Making Habits, Breaking Habits", is available now on Amazon.
Reviews
The Bookseller, "Editor's Pick," 10/12/12
"Sensible and very readable…By far the most useful of this month's New You offerings."
Kirkus Reviews, 1/1/13
"Making changes does take longer than we may expect—no 30-day, 30-pounds-lighter quick fix—but by following the guidelines laid out by Dean, readers have a decent chance at establishing fulfilling, new patterns."
Publishers Weekly, 12/10/12
"An accessible and informative guide for readers to take control of their lives."
→ You can dip into the first chapter, or check it out on Amazon.com.
Join PsyBlog's 69,466 readers now:
Share/save this article:
Published: 9 July 2005