A note of caution has been sounded for two drugs that claim to help female sexual dysfunction. Petra Boynton, the sex and relationship psychologist, denounces the media's uncritical presentation of the 'Intrinsia' hormone patch and Acrux's 'orgasm in a spray', saying:
"We're being conned into thinking all our sexual problems are hormonally based and require medical treatment. We need to ask in whose interest is it for us to think that?"
And more worryingly:
"What these drug companies don't tell women is if their sexual problems aren't linked to testosterone deficiency, and they start taking testosterone, they could experience side effects including increased growth of facial hair, losing head hair, deepening voice, and acne."
→ From Dr Petra Boynton's Blog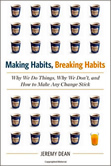 Making Habits, Breaking Habits
In his new book, Jeremy Dean--psychologist and author of PsyBlog--looks at how habits work, why they are so hard to change, and how to break bad old cycles and develop new healthy, creative, happy habits.
→ "Making Habits, Breaking Habits", is available now on Amazon.
Reviews
The Bookseller, "Editor's Pick," 10/12/12
"Sensible and very readable…By far the most useful of this month's New You offerings."
Kirkus Reviews, 1/1/13
"Making changes does take longer than we may expect—no 30-day, 30-pounds-lighter quick fix—but by following the guidelines laid out by Dean, readers have a decent chance at establishing fulfilling, new patterns."
Publishers Weekly, 12/10/12
"An accessible and informative guide for readers to take control of their lives."
→ You can dip into the first chapter, or check it out on Amazon.com.
Join PsyBlog's 69,466 readers now:
Share/save this article:
Published: 13 February 2005