Researchers studying speed dating have found we might not need the full 3 minutes to size up a potential partner.

"Although they had three minutes, most participants made their decision based on the information that they probably got in the first three seconds," Kurzban said. "Somewhat surprisingly, factors that you might think would be really important to people, like religion, education and income, played very little role in their choices."
> From the University of Pennsylvania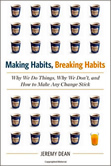 About the author
Dr Jeremy Dean is a psychologist and the author of PsyBlog and HealthiestBlog.com. His latest book is "Making Habits, Breaking Habits: How to Make Changes That Stick". You can follow PsyBlog by email, by RSS feed, on Twitter and Google+.
Published: 12 February 2005