With changes proposed to the licensing laws in the UK there's been lots of talk about binge drinking. The suggestion is that opening the pubs and bars at all hours will encourage binge drinking.
This is the same as saying that increasing the number of gyms will make us more healthy, or lowering the price of sofas will make us more lazy, or paying lawyers the same as binmen will decrease their number and make us less litigious and argumentative.
The answer to all these: it might but it won't necessarily.
Research carried out on students into binge drinking - and after all these guys are professionals - suggests that it has much more to do with our expectations for drinking. The student's belief that it made them more attractive, socially inviting and articulate, was directly predicting how much they drank.
Remember, reality is often not as important as our beliefs in affecting our behaviour.
> The abstract from the Journal of Addictive Behaviours
> You can check whether you're a binge drinker on the BBC site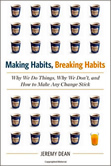 Making Habits, Breaking Habits
In his new book, Jeremy Dean--psychologist and author of PsyBlog--looks at how habits work, why they are so hard to change, and how to break bad old cycles and develop new healthy, creative, happy habits.
→ "Making Habits, Breaking Habits", is available now on Amazon.
Reviews
The Bookseller, "Editor's Pick," 10/12/12
"Sensible and very readable…By far the most useful of this month's New You offerings."
Kirkus Reviews, 1/1/13
"Making changes does take longer than we may expect—no 30-day, 30-pounds-lighter quick fix—but by following the guidelines laid out by Dean, readers have a decent chance at establishing fulfilling, new patterns."
Publishers Weekly, 12/10/12
"An accessible and informative guide for readers to take control of their lives."
→ You can dip into the first chapter, or check it out on Amazon.com.
Join PsyBlog's 69,466 readers now:
Share/save this article:
Published: 3 February 2005