The mind is attracted to thinking in terms of dichotomies - we like to believe there's two sides to every story. And that's just how our minds like to process the world. Our lives are littered with them: people are good or bad, politicians are left or right-wing, we are either happy or sad.
Popular thought about people with personality disorders is no different. These people are different from us, members of another category, not within our reach. What psychological research repeatedly tells us is that this is not true. No matter what personality traits you choose to measure, you will find we are not all that different.
Research from the University of Surrey compared senior business managers with current and former patients of Broadmoor hospital - a high security mental hospital. They found on measures of histrionic, narcissistic and compulsive personality, the business managers scored higher than the patients. Where the patients scored higher was on antisocial, borderline and paranoid personality dimensions.
> Read a summary of the paper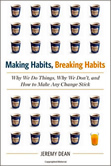 Making Habits, Breaking Habits
In his new book, Jeremy Dean--psychologist and author of PsyBlog--looks at how habits work, why they are so hard to change, and how to break bad old cycles and develop new healthy, creative, happy habits.
→ "Making Habits, Breaking Habits", is available now on Amazon.
Reviews
The Bookseller, "Editor's Pick," 10/12/12
"Sensible and very readable…By far the most useful of this month's New You offerings."
Kirkus Reviews, 1/1/13
"Making changes does take longer than we may expect—no 30-day, 30-pounds-lighter quick fix—but by following the guidelines laid out by Dean, readers have a decent chance at establishing fulfilling, new patterns."
Publishers Weekly, 12/10/12
"An accessible and informative guide for readers to take control of their lives."
→ You can dip into the first chapter, or check it out on Amazon.com.
Join PsyBlog's 69,466 readers now:
Share/save this article:
Published: 23 January 2005