It seems that the tide of opinion is beginning to turn against SSRI anti-depressants, the most well-known of which are Prozac and Seroxat. The UK Government announced today that doctors should, in most cases, prescribe them at their lowest doses.
This is one of the first official steps back that the government has been prepared to make on this difficult issue. Many argue that this is not enough, especially in the case of children where the evidence is questioning their suitability. Indeed, the prescription of all SSRI anti-depressants except Prozac to those under eighteen has already been banned.
The real cause of these problems is the number of people presenting at their GPs complaining of depression. Psychological interventions have been shown to be just as effective as anti-depressants, but without the side-effects. Unfortunately their cost has so far been prohibitive.
> From The Guardian
> USA Today reports that the latest American research indicates that even (the relatively safe) Prozac increases suicidal thoughts in some children.
> The New York Times picks up the new UK recommendations, noting that US health authorities have previously followed British guidelines.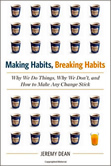 Making Habits, Breaking Habits
In his new book, Jeremy Dean--psychologist and author of PsyBlog--looks at how habits work, why they are so hard to change, and how to break bad old cycles and develop new healthy, creative, happy habits.
→ "Making Habits, Breaking Habits", is available now on Amazon.
Reviews
The Bookseller, "Editor's Pick," 10/12/12
"Sensible and very readable…By far the most useful of this month's New You offerings."
Kirkus Reviews, 1/1/13
"Making changes does take longer than we may expect—no 30-day, 30-pounds-lighter quick fix—but by following the guidelines laid out by Dean, readers have a decent chance at establishing fulfilling, new patterns."
Publishers Weekly, 12/10/12
"An accessible and informative guide for readers to take control of their lives."
→ You can dip into the first chapter, or check it out on Amazon.com.
Join PsyBlog's 69,466 readers now:
Share/save this article:
Published: 6 December 2004