The outgoing mayor of Bogota – Antanas Mockus – has been running some fascinating social psychology experiments with the 6.5 million inhabitants of the city. His unusual methods of instilling civics values have already brought about dramatic changes in public life.
> From the Harvard Gazette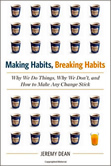 About the author
Dr Jeremy Dean is a psychologist and the author of PsyBlog and HealthiestBlog.com. His latest book is "Making Habits, Breaking Habits: How to Make Changes That Stick". You can follow PsyBlog by email, by RSS feed, on Twitter and Google+.
Published: 25 December 2004