Organisations like the Royal Society for the Prevention of Accidents have long been campaigning for the complete ban of mobile phone use while driving. Research carried out as early 1991 by The Foundation for Traffic Safety pointed to the deleterious effects of mobile phone use while driving.
So called 'driver's organisations' like the RAC and the AA have opposed complete bans in the past because phone use while driving is 'like applying make-up, drinking or shaving'. These are statements for which they have no scientific evidence. They are simply guesses as to what they hope might be true. The mounting scientific evidence present a different picture.
New research published this month into hands-free phones makes it clear exactly what effect their use has on drivers. Their study has found that driver's cognitive function is significantly impaired, especially in older participants. Drivers were found to be significantly less aware of developing situations on the road, a major contributor to accidents.
The continuing reluctance of the government to act decisively seems to come down to how much people love their cars. The current half-way house in the UK of just banning hand-held mobiles will simply result in more people losing their lives.
> From The Univesity of Illinois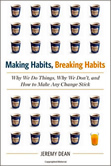 Making Habits, Breaking Habits
In his new book, Jeremy Dean--psychologist and author of PsyBlog--looks at how habits work, why they are so hard to change, and how to break bad old cycles and develop new healthy, creative, happy habits.
→ "Making Habits, Breaking Habits", is available now on Amazon.
Reviews
The Bookseller, "Editor's Pick," 10/12/12
"Sensible and very readable…By far the most useful of this month's New You offerings."
Kirkus Reviews, 1/1/13
"Making changes does take longer than we may expect—no 30-day, 30-pounds-lighter quick fix—but by following the guidelines laid out by Dean, readers have a decent chance at establishing fulfilling, new patterns."
Publishers Weekly, 12/10/12
"An accessible and informative guide for readers to take control of their lives."
→ You can dip into the first chapter, or check it out on Amazon.com.
Join PsyBlog's 69,466 readers now:
Share/save this article:
Published: 15 November 2004