Tattoos help psychologist build a rapport
A psychologist decided to have tatoos when he realised it was the only way the tatooist would confide in him.
[From ic Wales]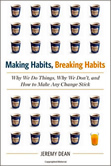 About the author
Dr Jeremy Dean is a psychologist and the author of PsyBlog and HealthiestBlog.com. His latest book is "Making Habits, Breaking Habits: How to Make Changes That Stick". You can follow PsyBlog by email, by RSS feed, on Twitter and Google+.
Published: 14 August 2004